Translate This Site to Czech >>>>

The village of Lizunovo is located near Moscow. A great place for agriculture is a lot of cheap land for pasture and fodder. The village of Lizunovo has been a center of dairy production for many years. Flax was grown for industrial processing. For 20 years, several square kilometers of agricultural land have been free to use. For 20 years, no fertilizers and chemicals were applied to the soil.
All fields around the village of Lizunovo are easily accessible for agricultural machinery. Everything is located very close.
The village of Lizunovo is accessible by road from several directions.
In the village there are 3 streets with asphalt-concrete pavement, a constant gas supply, artesian water supply, and a powerful electricity supply. For construction in the village there is concrete production. The village has a school, a medical center, a post office, two shops, a library, an entertainment club, and a museum.
The village of Lizunovo has a large population: permanent locals [1] and city dwellers who come on weekends [2].

Russian village

Every year, new houses are built in the village for residents and for recreation. This is visible in satellite imagery.

2014 year: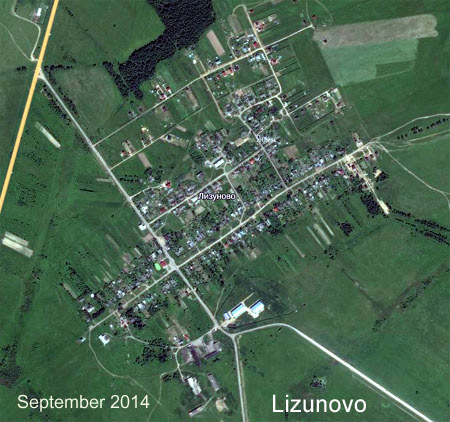 The next satellite image shows how many new buildings were added to the village in 2018.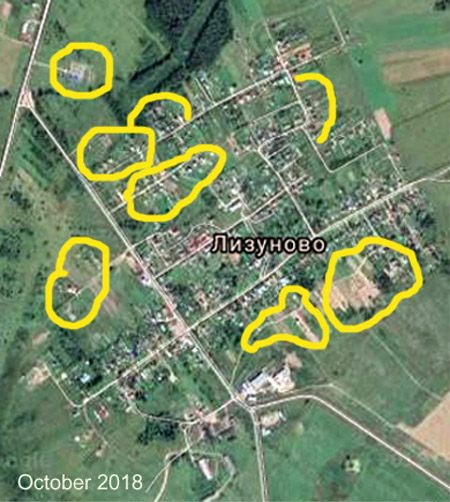 The free areas around the village are intensively built up with cottages. Added roads, gas pipelines, electric cables, water supply. The water supply system receives natural water from two wells from a depth of 120 meters. The cost of water is about 8 times less than European.
The whole village of Lizunovo is supplied with domestic gas from special central highways. The cost of gas for the villagers is several times lower than the European one. Special service campaigns can quickly install gas equipment and water heating using European and American gas boilers.
If you like a real fireplace, it is easy to order and buy natural firewood from different species of wood in the village.

Dairy production

For many decades in the village of Lizunovo there was a large agricultural production of milk. The farm contained many dozens of thoroughbred cows.
Special feed for cows was grown in the fields. There was infrastructure for the preparation, processing and storage of natural feed for cows.





Now milk production in the village of Lizunovo does not exist. However, all the necessary conditions have been preserved - large fields for growing natural feed, low cost of resources, low rent, normal climatic conditions. Large free areas allow the natural content of cows to be used to produce the highest quality milk.
In the surrounding areas there is a good demand for high-quality dairy products.

Other products.

Around the village of Lizunovo, flax and barley were grown for many years. The natural conditions of the area are suitable for such production. Developed road infrastructure allows you to quickly deliver products for processing. Cheap electricity, gas and rent allow you to have a minimum cost of production.

Russian village

The village of Lizunovo is a good place to relax. The nearest industrial enterprise is 20 kilometers away. The air in the village is very clean, berries, root crops and fruits are grown only on natural plots of land. Often there are apples, cherries and plums of very old varieties that cannot be bought in other regions.

For several years, the number of newly built houses in the village of Lizunovo and around the village has been steadily growing. A significant part of the new buildings is carried out by residents of Moscow. They prefer the village of Lizunovo because of its good location, convenient access roads, constant expansion of infrastructure, and inexpensive resources. The village of Lizunovo expands faster than other villages in the area. Therefore, the demand for goods, services, services and their quality will only increase. This creates additional business opportunities. The village of Lizunovo is located in an area with low resource costs and at the same time is close to large cities.